About DNA
Over our 10+ years in business, our company has transformed to meet the needs of today's businesses. We continue to provide Server Cabinets, Facilities Monitoring, Intelligent Power Products. Now we also serve as a consultant and provider to the Command & Control arena of the data center providing Video Walls and customized Console Furniture.. Let Digital Narrowcasting Associates, Inc. (DNA) provide your operation with essential data center solutions for security and reliability. Here, we share our story with you:
Our History
DNA was founded in 2005 as a child company to DY Nye Co. The evolution of the company coincides with the history of DY Nye Co.
DY Nye Co., Inc. was a technology company founded by Dan Nye in 1992. This firm sold KVM switching products, data center intelligent power, and server enclosures. Customer needs and demands along with new technology began to drive DY Nye toward a video-centric product offering.
When DNA was originally founded, the vision was to serve as a provider of digital signage hardware. However, that market quickly became saturated. Because of this, DNA and DY Nye Co. became the provider of the legacy products of data center power, KVM switching, and server enclosures.
In 2010, DNA ushered in Lucille Nye as president and we became a woman-owned business. Since that time, our company has built a solid customer base with universities, hospitals, banks, and industry.
In 2017 Dan Nye was welcomed back to head up sales for the company. It is important to note, Dan sold DY Nye Co. in 2013 to Datapath Holdings LTD, a manufacturer of video wall hardware and software with the agreement to set up their North American office. He successfully established that office and grew the revenues from $3 million to $5 million in three years. Upon completing his contract, Dan returned with new products and new ideas, incorporating 36 years of experience in computer networks and AV product solutions.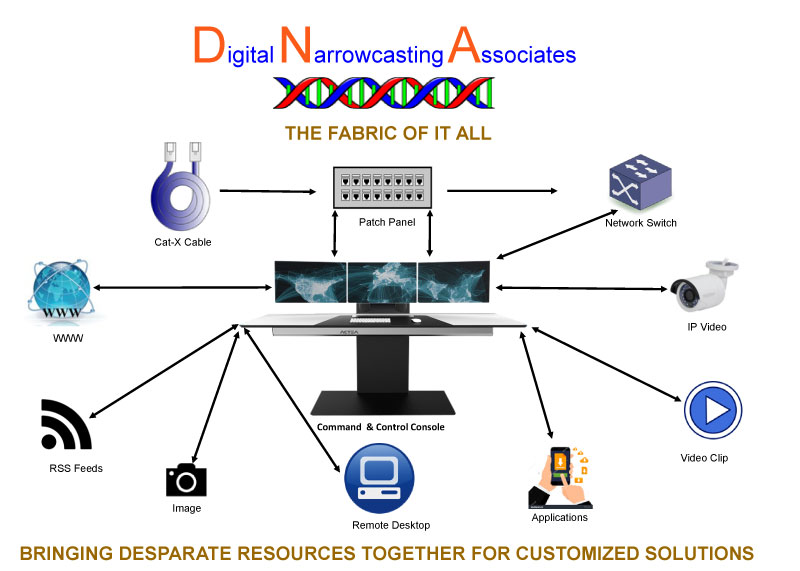 About Our Name & Mission
The initials of the name Digital Narrowcasting Associates spell DNA, which is the unique fabric which make us individuals. Our goal is to take that concept and apply it to every customer and every project. After all, every sale and every project is as unique as the DNA of which we all are made.
Our focus is continues to be in the Datacenter arena where evolving technologies such as Artificial Intelligence (AI) and Machine Learning will impact the infrastructure of the Datacenter and challenge its ability to be agile. The Internet of Things (IoT) and a strategic approach for security and risk are things needing to be considered as disrupters to the status quo. Is your organization prepared to erase the barriers between security and application teams?
Research and experience has determined the list of manufacturers with which we associate. Each of our companies are recognized as leaders in their respective fields. We are choosing manufacturers that are taking into consideration the above challenges in the development of their new products.
Along with our Datacenter offerings it is an easy segue into the security command and control environment. Our best of breed in AV over IP products solve the most challenging problems in digital video distribution. We are also pleased to have the capability to offer customized command and control furniture solutions to provide the best ergonomic experience to the nerve center of your communications network.
Throughout your working relationship with us, we seek to provide the best in customer service. Customer experience, in a nutshell, starts at the beginning and never ever stops. Our goal is to make your experience so positive that you chose to work with us over and over again. We are not satisfied with our service unless you are.
Contact us today to learn more about the story of our company. Headquartered in Greensburg, Pennsylvania, we proudly serve clients across the United States and Canada.